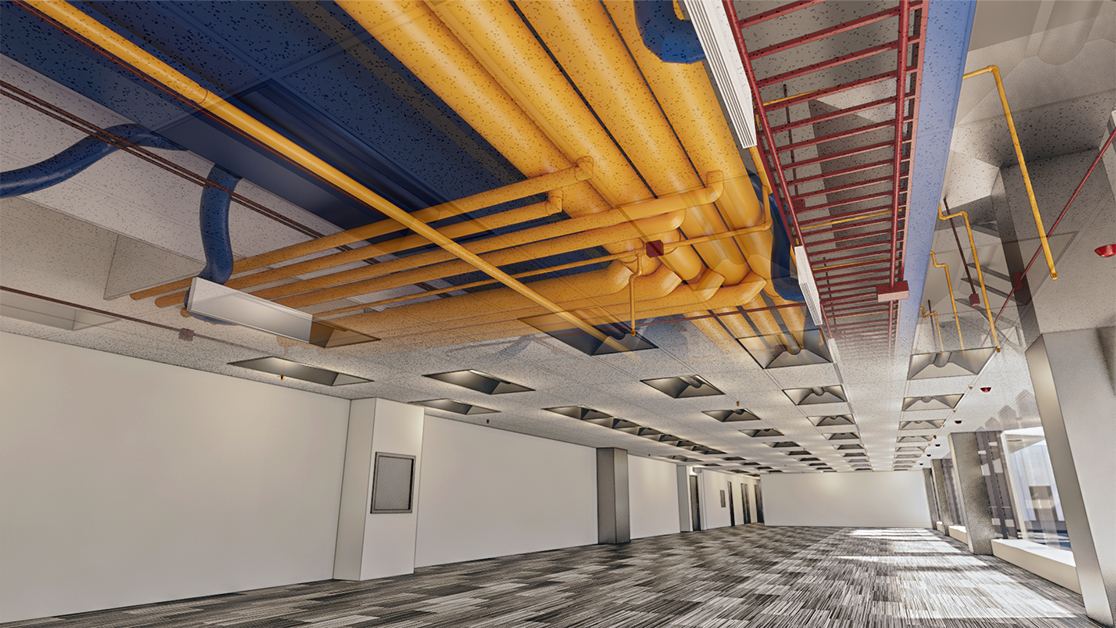 Commercial property owners and design teams frequently grapple with the challenge of understanding hidden building services and structural makeup concealed by existing fit-outs, especially when tenants are in situ. This uncertainty often results in hefty contingencies, extended project timelines, last-minute design changes, and coordination issues. Digital Inc offers an innovative solution that uncovers and provides this invaluable information upfront, minimizing tenant disruption, empowering the design team and ensuring cost-effectiveness.
Empowering Design Teams with Comprehensive Geospatial Information
Digital Inc's ground breaking approach empowers design teams with an extensive range of geospatial information, eliminating the need for invasive measures. By supplying an accurate 3D representation of the ceiling void, this innovative solution leads to substantial reductions in design program duration, risk exposure, and greatly improves design coordination. Furthermore, Digital Inc's method enables virtual site visits for all stakeholders, allowing them to explore the building's hidden aspects and take measurements remotely using interactive 360-degree photographs.
Striking a Balance: Data Capture and Tenant Consideration
Close collaboration with facility managers is crucial for the successful execution of survey works and minimizing disruption to tenants. Digital Inc expertly conducts the survey works outside regular hours to minimize disruption. The seamless integration of after-hours 3D laser scanning with strategic ceiling tile removal strikes the perfect balance between data capture and tenant consideration. The ingenious use of an extended tripod further refines data capture while preserving the integrity of ceiling tiles.
Optimal Effort-to-Reward Ratio
Utilising this approach, Digital Inc effectively attains an impressive coverage of over 85% accurate scan data by removing a mere 15-20% of the ceiling tiles. This method optimises the balance between gathering essential information, minimizing tenant disturbance, and adhering to both the measured survey timeline and budget.
Unlocking Value and Boosting Efficiency
Digital Inc's innovative approach reveals a multitude of benefits, including accelerated project timelines, diminished cost and time contingencies, and enhanced planning. A comprehensive dataset of existing conditions empowers informed decisions, ultimately streamlining the renovation process and delivering outstanding results in cost savings, time reduction, and design accuracy.
In Summary: Reduce the Risk, Reap the Rewards
Key benefits include:
Cost savings: Early access to hidden information reduces unforeseen issues, leading to substantial project savings.

Faster timelines: Providing upfront data shortens project timelines by avoiding delays from fit-out removal.

Design confidence: Comprehensive datasets enable better-informed decisions, improving design precision and coordination.

Enhanced planning: Early insight influences design direction, optimising project plans based on existing conditions.