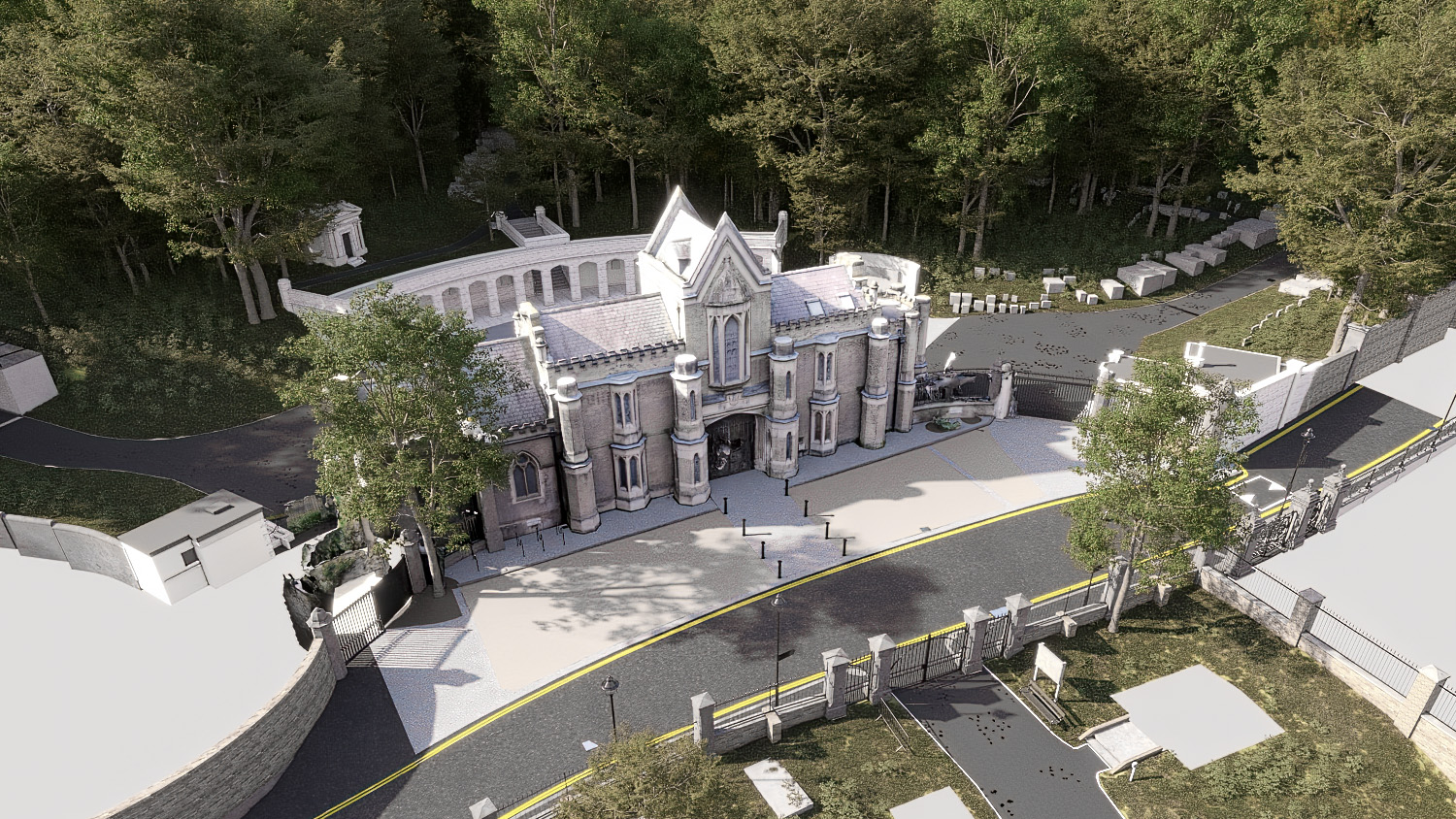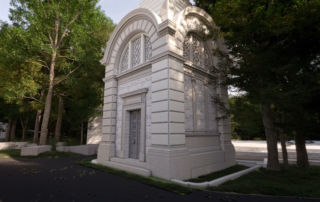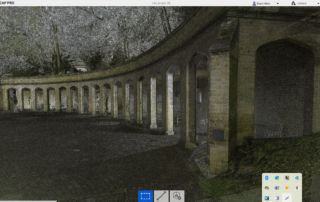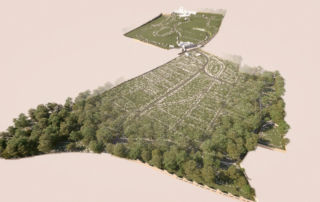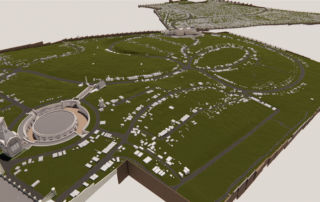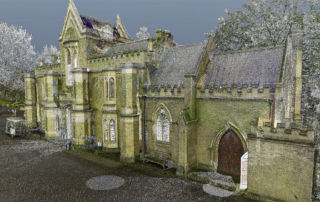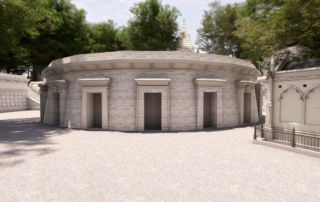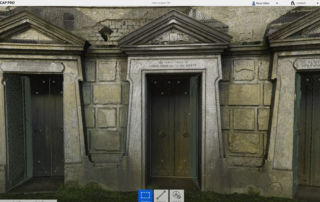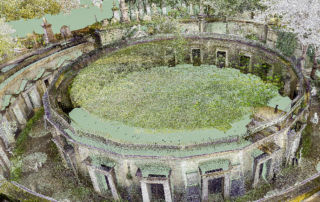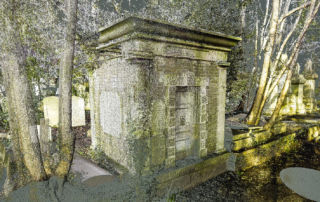 Highgate Cemetery, London
Probably the most unique project we've featured, and one where BIM enabled models and point cloud technology have provided a solution where there wasn't one previously.
Originally opened in 1839, Highgate Cemetery went into decline in the 1970s before being rescued by a charity, Friends of Highgate Cemetery Trust. The charity have been focused on reversing nature, clearing access routes and repairing damage to the landscape and to buildings, caused mostly by neglect and self-set trees.
It is now known as Britain's most popular and best loved cemetery, with its history, living landscape and bio-diverse ecology. Footfall exceeds 100,000 visitors a year, the majority of which pay to enter the cemetery and take part in guided tours to the various buildings, monuments and the most notable of the graves, including Karl Marx's.
Following two competitions seeking architects to develop a 25-year masterplan for the long-term care of the site, Gustafson Porter + Bowman and Hopkins Architects were appointed to deliver the vision of a sanctuary, for generations to come, preserving a link from the past to the present.
This historic site is to be developed into a more manageable and sustainable landscape, a twenty-first century cemetery with widened visitor appeal and improved bio-diversity. Maintaining the enchantment of the site is a key focus, whilst improving accessibility and introducing facilities for visitors, grave owners and cemetery staff.
The architects required topographical and measured surveys to be carried out in order to produce accurate BIM enabled models in Revit format, translated and derived from highly detailed 3D point cloud data, thereby allowing the design stage of the project to commence.
The challenges
Highgate Cemetery is designated Grade I on the Register of Historic Parks and Gardens, and incorporates 80 listed buildings. The vast 37-acre site is set on a hill with serpentine pathways throughout. Accessibility is hindered by difficult terrain, especially in the West Cemetery.
It is an active site in ongoing operational use, with both private and public areas. Access to certain areas was therefore limited to specific times and security/escort requirements at the discretion of the client team.
The topographical condition, as well as the graves, monuments and various buildings were to be extensively surveyed. This included identifying which of the 5,300 trees were dying and would therefore need removing as part of the project.
Due to the density of trees and heavy foliage throughout the site, some areas were unable to be surveyed by terrestrial scanners. A UAV was used to fly over and enable these inaccessible areas to be captured, from a position of safety, to ensure maximum coverage.
"It has been a pleasure working with Tom and Digital Inc on the Highgate Cemetery project. They have brought a dazzling array of technology and techniques to the measured survey brief we provided. They grasped the special, historic and sensitive nature of the project, and showed a positive approach throughout"

Bill Marsden, Project Manager, Artelia UK
The undertaking of a grand task
Late in 2021 Digital Inc. were commissioned to undertake full 3D measured surveys of the vast site, including the landscape and surface features. They were to develop 3D BIM-enabled Revit models, 3D photogrammetry models and full set of 2D CAD drawings and orthophotos of 16 buildings and monuments.
Nature and the elements have ensured that over the years, some mausoleums in particular are not able to be accessed, without specialist intervention. These assets therefore were only to be surveyed from the exterior, with plans for the internal survey to assess for structural integrity to be carried out in design stage 2 (planned to take place in 2023).
The first task for Digital Inc was to assemble a project team with the precise mix of skills and expertise required. As this was a complex project consisting of several teams with specialisms in 3D laser scanning, topographical land surveying, UAV, photogrammetry, BIM Revit modelling and CAD, as well as dedicated project management and quality control.
Continuity throughout the project was vital and having a dedicated project manager and strong QA procedures allowed them to monitor consistency of the project specifications' level of detail, making sure that the outputs generated reflected the architects' requirements.
The architects' brief and requirements were for an accurate record (+/-20mm) of visible property and assets being collected digitally to produce a fully BIM-enabled graphical representation of the site. This would enable the client to utilise and implement future redesigns and preservation of the Grade I listed site. It was also imperative that the model be flexible enough for any future developments such as change in regulations and specifications.
The results
The chosen method was tested by creating reports/schedules within the models and constant checking to ensure it correctly produced quantifiable characteristics as required with the highest possible levels of accuracy, visual representation and performance.
Traditionally a project of this scale would have required up to 3 months just to survey the site, but thanks to the latest laser scanning and UAV technology, all data capture was completed in just 4 weeks.
Upon completion of the site work, the captured data exceeded 1.5TB. This was then cleansed and analysed in order to visually depict the results within drawings and models.
Ensuring clear and transparent communication throughout, Digital Inc. held 'work in progress' demonstrations with the client to ensure they were satisfied with the results at various stages post data capture. Upon client approval of a first draft of the model, they proceeded to develop the final results, using a combination of real-time rendering and post-processing workflows.
The final output ran to over 200 drawings and models delivered in Revit 2022, along with all captured imagery in various formats. The production time and cost remained within the proposed schedule and budget, and the output has more than satisfied the client and the design teams' requirements.
Another successful project delivered as promised.